This afternoon, we were lucky enough to get our 50,000th Facebook follower and… in all honesty… we flipped out.
First we were all like:
Then we were all like:
We got so rowdy that people starting looking at us like:
(whatever, haters)
It took us a while to calm down: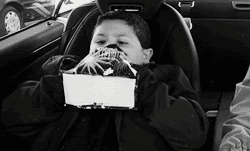 But  now that we have, we wanted to say: Hi, to all our new followers:
And that we love you all!!